Home Asia Pacific South East Asia Malaysia


Malaysia a model for the world, says Buddhist leader
The Star, March 10, 2008
KUANTAN, Pahang (Malaysia) -- Malaysia is a fine example of a global human family and can be a model to the world, adviser to the Pahang Buddhist Association (PBA) Venerable Sik Ji Xing said.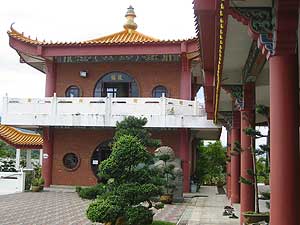 << Buddhists form 19% of Malaysia's 26 mil population, the largest group after the Muslims

He said Malaysia, being a multi-racial and multi-religious nation, was a beautiful country to live in.

"The word family has a special meaning. 'Fam' means father and mother while 'ily' means 'I Love You.'

"I hope all Buddhists can follow closely the teachings of Buddha and contribute to mankind as part of the global human family," he said while addressing a crowd at the groundbreaking ceremony of PBA haemodialysis centre here on Sunday.

Ven Sik said, upon completion, the centre would benefit the people regardless of race and religion. He said as part of the global community, one must learn to lead a happy, healthy and meaningful life.

"We must teach our children to do good always so that we will be beautiful and prosperous in the next life.

"I suggest that all parents teach their children to save money and donate for a good cause to benefit all humankind.

"It is better to give 10 sen a day than to donate a million ringgit when about to die," he stressed.

Ven Sik said parents who taught their children to be generous would be the first to benefit when they grew up.

"Otherwise, the parents will also be the first to experience the downside of their children's selfishness," he said.