Home Asia Pacific South East Asia Malaysia


Mudita Building fund launched
Story and photo by CHRISTINA TAN, The Star, May 13, 2008
Klang, Selangor (Malaysia) -- The Mudita Buddhist Society (MBS) has launched a building fund to raise money for the construction of a centre in Klang to reach out to the Buddhist community in the area.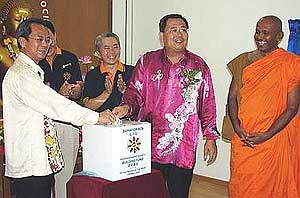 << Chipping in: Liu (left) and Wong (second from right) putting their donations into the Mudita Buddhist Society's building fund donation box. Looking on are the society's spiritual adviser Ven Sri Saranankara Naya Maha There (right) and president Albert Tan (third from right).
MBS president Albert Tan said the society, which was registered in July last year, hoped to have its own building in three to four years.
"We can either procure a piece of land and build from scratch or buy an existing building. In this respect, we must have enough money.
"The society needs bigger and better premises for its educational, religious, social and welfare activities, besides reaching out to a larger section of the Buddhist community in Klang," he said before the fund was launched by Selangor executive councillor Ronnie Liu at the centre's rented premises in Jalan Stesen, Klang on Sunday.
Also present at the event was Kuala Kubu Baru state assemblyman Wong Koon Mun, who was representing Housing and Local Government Minister Datuk Seri Ong Ka Chuan.
Tan said the society had carried out various activities, including talks, Sunday school for children, meditation and chanting, since it was established.