Home Asia Pacific South East Asia Malaysia


Malaysian Buddhists urged to pray for quake and cyclone victims
The Star, May 20, 2008
KUALA LUMPUR, Malaysia -- Buddhists in Malaysia have been urged to pray for those suffering in China and Myanmar due to teh massive natural disasters which struck both countries recently.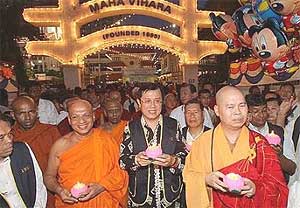 << Religious fest: Ong (centre) with Sri Dhammaratana (left)and Ven. Ming Ji (right), chairman of the Malaysian Buddhist Association KL/Selangor division, at the launching of the Wesak Float Monday.
Transport Minister Datuk Ong Tee Keat, who spoke Monday at the Buddhist Maha Vihara Temple in conjunction with Wesak Day, said it was the appropriate thing to do.
"While we may pray for ourselves, we must be mindful of the catastrophes that have hit these countries. We are duty-bound to make the world a better place so we must also try to help the people in these countries."
Ong, who is MCA vice-president, also touched on religious equality and hoped that Malaysians would be able to create an environment where equality and harmony prevailed.
"It is always easier said than done but if everyone works together, it is achievable," he said.
He added that Buddhists had also played their role in national development.
Ong later lit a candle together with Chief High Priest of Malaysia, Venerable K. Sri Dhammaratana Maha Nayaka Thera, and proceeded to light the float that led a procession.