Home Asia Pacific South East Asia Malaysia


Malaysian Buddhist community mourns the passing away of a great monk
The Buddhist Channel, April 14, 2009
Petaling Jaya, Malaysia -- Noted Venerable and Chinese calligraphist Bo Yuan passed away peacefully at 9pm on 10th April 2009. He was 97.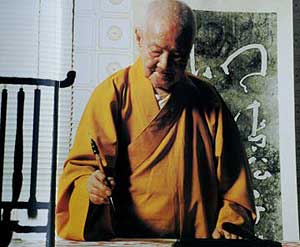 << Venerable Master Bo Yuan
Born in 1914 in the province of Fujian, China, the late Venerable entered monkhood at the age of 19 and came to Malaysia in 1961. Ven. Bo Yuan had been a monk for 77 vassas, making him one of the most senior monks in this part of the world.
Apart from propagating the Dhamma by preaching and publishing books, the late Venerable was also noted in the Arts Circle for his calligraphy and Chinese brush paintings.
His creative works earned him the "Spiritual Ink" and "Poetic Sage" award of China.
The following is the funeral programme arranged for the public to pay their condolences at the Hu Bing Jing Se (located in Petaling Jaya). All services will be conducted in Mandarin:

12/4 – 15/4
9 am-11pm: Paying of last respects & recitation of Namo Amitabha
14/4
3 pm: Sealing of casket by Most Ven Chek Huang, Honarary Chairman of Malaysian Buddhist Association
16/4
10 am: Offering Liturgy to Buddha & Bodhisatvas
16/4
10.30 am: Cortege leaves Hu Bin Jing Se (Lakeside Dwelling Vihara) to Chin Fatt Sze Buddhist Monastery, Old Airport Road Sg Besi presided by Ven Jit Heng, President MBA
16/4
11.30 am: Cremation Ceremony at Chin Fatt Sze Buddhist Monastery, Old Airport Road Sg Besi presided by Most Ven Jing Liang of China Taiwan Buddhist Association
Read also: Farewell to a much-loved monk/artist