Home Asia Pacific South East Asia Malaysia


Thousands of visitors throng Buddhist temple for Chinese New Year
The Star, February 5, 2011
KUALA LUMPUR, Malaysia -- The Buddhist Maha Vihara Temple in Brickfields was abuzz with visitors on the first day of Chinese New Year (CNY).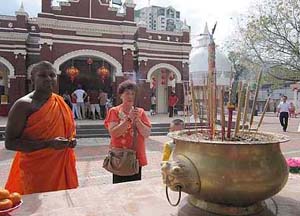 << Wishing for an auspicious year: Rev Witiyala (left) accompanying Chang, praying for a good year ahead on Chinese New Year.

"Usually, we get a few hundred visitors a day, but on CNY, the temple receives about 2,000 visitors," said Sri Lankan monk Rev Witiyala Bodhi Vathana Theo.

The monks organise prayer services daily, but for special occasions like CNY and Wesak Day there are several services held throughout the day.

The monks also organised a charity luncheon to raise funds for the temple, where only vegetarian food was served.

"I've been coming here for more than 10 years, not just on CNY," said Chang See Chew.

Chang came to the temple to pray for a good year ahead.

According to Rev Witiyala, scented joss sticks are believed to clear the air of last year's ill fortune and encourage better luck.

Devotees can also light special lotus shaped candles to bless their families.

In the spirit of the Year of the Rabbit, there were several rabbits on the temple grounds that visitors could pet.

Originally founded by the Sinhalese community to provide a place of worship for their Sri Lankan Theravada tradition, the temple has since grown from a humble hall and now includes a shrine, a prayer hall and even a pagoda.