Home Asia Pacific South East Asia Singapore


Singapore Buddhist Lodge gives out more than S$670,000 to the needy
Channel News Asia, 7 January 2012
SINGAPORE -- The Singapore Buddhist Lodge (Welfare Foundation) has given out twenty per cent more red packets for the Lunar New Year this year.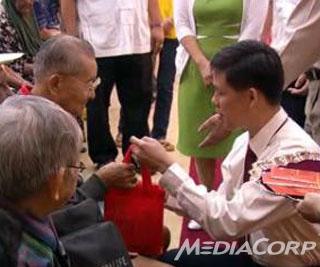 << Singapore Buddhist Lodge gives out more than S$670,000 to the needy
This amounts to more than S$670,000 - an all-time high since it started distributing red packets in 1949.
More than 11,000 people are expected to benefit.
They include the elderly and the disabled registered with the Community Development Councils.
Acting Community Development, Youth and Sports Minister Chan Chun Sing graced the event and gave out red packets ranging from S$10 to S$180.
The Buddhist Lodge also donated S$60,000 to the National Kidney Foundation, with the money going towards a transport allowance for needy patients.
Singapore Buddhist Lodge president Lee Bock Guan said: "The price of coffee, drinks and daily expenses has increased. It is difficult for the elderly to celebrate the Lunar New Year so we found out how much we should increase our red packets by. Last year, we gave S$150. And this year, we increased it by 20 per cent."