Home Asia Pacific South East Asia Singapore


Tablet at Buddhist monastery in Geylang East to remember late Dr Wee
By Asha Popatlal, Channel NewsAsia, May 9, 2005
Singapore -- While the late former President Wee Kim Wee's funeral may be over, many still continue to remember him and pay their respects in various ways. After his death on Monday, a tablet bearing his name, dates of birth and death has been put up at a Buddhist monastery.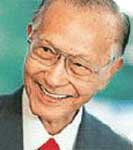 << The late Dr. Wee Kim Wee
The quiet and serene monastery in Geylang East Avenue 2 is just a short 15 minutes drive from the late Dr Wee's home in Siglap.
According to his son, the late Dr Wee had gone to the temple several times in the past year to make arrangements for the tablet.
And so, while his ashes will be kept at Mandai Crematorium for now, people have been offering flowers and paying their respects at this monastery.
"All of a sudden we see Dr Wee's tablet of remembrance - so we pay respect to him," said one visitor to the monastery.
"My mother respected him a lot and his tablet is here with hers so I came to offer some joss sticks," said another.