Home Asia Pacific South East Asia Singapore


Hair For Hope: More than 300 go bald at Buddhist temple for a good cause
By Linette Lai, The Straits Times, May 1, 2014
Singapore -- More than 300 people had their heads shaved on Thursday morning at the Kong Meng San Phor Kark See Monastery, in a show of support for children battling cancer.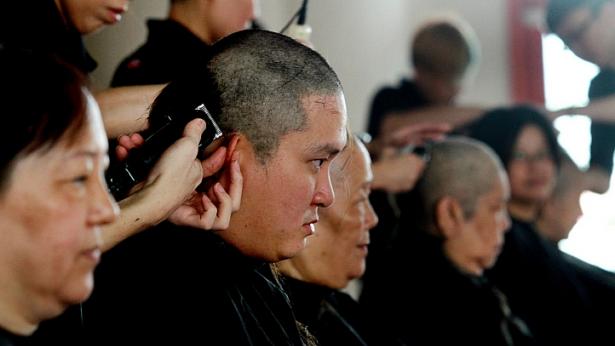 << More than 240 people, including staff and Buddhist patrons of the Kong Meng San Phor Kark See Monastery, will be shaving their heads on Labour Day to kick off this year's Hair For Hope event. -- ST PHOTO: LAU FOOK KONG
The event marked the official start of this year's Hair for Hope, organised yearly by the Children's Cancer Foundation (CCF) to raise funds and awareness of childhood cancer.
The CCF hopes to get at least 6,500 people to go bald for this year's campaign. It also aims to raise $3.6 million by the end of July, when the main Hair For Hope event will take place.
The monastery, located in Bright Hill Road at Bishan, is the largest Buddhist temple in Singapore. It is one of the CCF's key partners, and has raised more than $350,000 for the foundation so far.