Home Asia Pacific South East Asia Singapore


Heart on a string
By Winson Teo, TODAY, March 19, 2007
SINGAPORE -- He didn't hit the heights he had hoped for. The Venerable Shi Ming Yi was forced to call off his attempt to scale City House on Sunday night as part of the Ren Ci Charity Show when the ropes he was using tangled during the last part of the climb.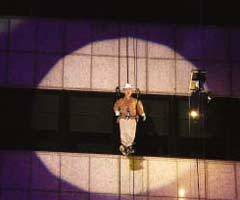 << Venerable Shi Ming Yi forced to call off his attempt to scale City House.
The daredevil monk's stunt involved pulling himself up from the fourth to the 15th storey of the 23-storey building with the help of two ropes, and then completing the journey to the roof using just one rope.
During the second leg of the stunt, the rope was entangled, preventing him from going any further. "Like the title of my show, I had hoped the calls would ascend as I made my climb," said a disappointed Venerable Shi.
The number of calls did rise, hovering at 350,000 as the monk hung in mid-air, at which point he was unable to go further. This was the first time in five charity shows that the Venerable Shi was unable to finish a stunt.
"I always give my best whenever I perform. When I can't, I can only say sorry," he said. "Patients at Ren Ci still need our help, although I have failed."
At press time, the donations had already risen to $6.5 million. The hotlines for donations of $5 and $15 - 1900-112 8888 and 1900-112 8889, respectively - are open until Sunday. For donations of $30 and above, dial 6746 1110 from 8am to 11pm until Wednesday.