Home Asia Pacific South East Asia Singapore


Devotees flock to catch a glimpse of Little Buddha
By Teoh Song Keng & Wong Siew Ying, Channel NewsAsia, April 8, 2007
SINGAPORE -- A 4-year-old boy was the centre of attention at the Singapore Buddhist Lodge at Kim Yam Road on Sunday.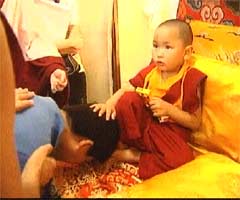 Nepal's Tulku Tenzin Phuntsok Rinpoche – dubbed the Little Buddha – was mobbed by devotees while visiting the temple.
Temple staff and volunteers had to join hands to hold back a large crowd who jostled to catch a glimpse of the Little Buddha.
And in the midst of the shoving and pushing, an old lady lost her footing.
The Little Buddha was mobbed right up to the end of his visit as many people went forward to give him red packets.
It was the same scenario at another temple in Bukit Timah where followers lined up to seek blessings from the Little Buddha.
In return, he was presented with candies and books.