Home Asia Pacific South East Asia Singapore


Rare Buddhist relics on display in Singapore
By Pearl Forss, Channel NewsAsia, May 27, 2007
SINGAPORE -- Rare Buddhist relics and art works are on display at the Nei Xue Tang Buddhist Art Museum to mark Vesak Day.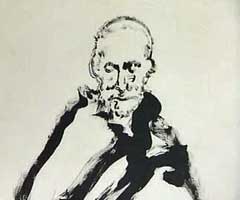 Among them is a portrait of Master Hsu Yun by renowned Singapore artist Tan Swie Hian. The old master had lived through turbulent times in China.
But that did not stop him from spreading the philosophy of Buddhism till his death, at 120 years old.
Hsu Yun is considered by many to be one of the greatest followers of Buddhism.
"Anybody who sees Hsu Yun's robe, particularly Buddhists, their knees go weak and they go bowing down in great devotion. Our artist friends like the robe itself because it is like a piece of art work....material gathered by the monks, and they patch it, because they are supposed to renounce wealth, their lives as simple as possible," said Woon Wee Teng, an art collector and caretaker of Nei Xue Tang.
Besides the robe, a letter written by Hsu Yun and his alms bowl are also on display.
They are all on loan from Hsu Yun's disciple, Master Yi Zhao from Hong Kong.
During these two weeks, Nei Xue Tang is also exhibiting the fine carvings of Guan Yin from the Tang Dynasty.
The museum hopes it will inspire visitors to contemplate the virtues of compassion - for which Guan Yin was known - during this Vesak Day celebrations.