Home Asia Pacific South East Asia Singapore


Devotees unable to save Buddhist temple, but tree will be preserved
DPA, Feb 26, 2008
Singapore -- The Singapore High Court dismissed a bid to save a 65-year-old Buddhist temple site from government acquisition, but a Bodhi tree regarded as sacred will not be chopped down, news reports said Tuesday.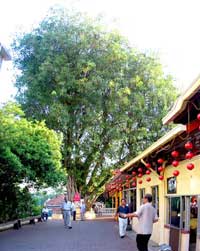 << The 100 year old Bodhi Tree of Jin Long Si Temple, Singapore
Devotees of the temple had filed a suit against the acquisition, alleging a violation of the constitution.
The decision published in The Straits Times gave the trustees two months to move the Jin Long Si Temple to a temporary site. The government did not breach the constitution, said Justice Tan Lee Meng on Monday.
The site was acquired by the Singapore government in 2003 as part of redevelopment plans for more housing. The zinc-roofed temple was given until January 31, 2008 to relocate. The move was postponed because of the lawsuit.
The government had offered the temple alternative sites. Temple president Tan Poh Heong said that he would consult with the temple's lawyers.
Saved, however, was the huge Bodhi tree, believed to be more than 100 years old, on the temple's premises. The tree has a girth of 8.5 metres and is 30.5 metres tall.
The Law Ministry that said the tree will be retained on the land, and the developer will be required to take necessary measures to ensure its preservation.
Both nature lovers and temple devotees have been asking for the tree to be left undisturbed.
Buddha is believed to have gained enlightenment while sitting under a Bodhi tree.
Read also: Visitors flock to save revered Bodhi Tree