Home Asia Pacific South East Asia Singapore


Ming Yi first religious leader to be suspended
By Theresa Tan, The Straits Times, July 16, 2008
Singapore -- HIGH-PROFILE Buddhist monk Ming Yi has become the first religious leader to be suspended from management roles in religious groups here by the authorities.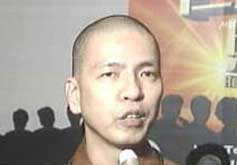 The Office of the Commissioner of Charities (COC) told The Straits Times on Wednesday that it decided to suspend Ming Yi as the criminal charges against the former Ren Ci chief executive involved 'fraud and dishonesty'.
'It is necessary for the Commissioner of Charities to exercise his powers to suspend him from executive positions in the charities concerned to protect their interest and property.'
The order came on Tuesday, the same day Ming Yi, 46, was charged in court with 10 counts of fraud, forgery and giving false information among other things.
He is not allowed to hold 'operations, board governance and management duties' at the Ren Ci Hospital and Medicare Centre he founded in 1994, and five other Buddhist temples and charities.
This is the first time the Commissioner has suspended a religious leader from performing executive functions in a religious group or charity since the Charities Act was enacted in 1983.
However, Ming Yi can still perform his religious roles as a monk, said the Commissioner's office.
News of the criminal charges brought against the monk and the suspensions have shocked the Buddhist community where Ming Yi is a respected leader.