Home Asia Pacific South East Asia Singapore


Singapore Buddhist Lodge hosts reunion feast for the less fortunate
By Channel NewsAsia, January 25, 2009
SINGAPORE -- The Singapore Buddhist Lodge started it's Lunar New Year celebrations by helping the less fortunate.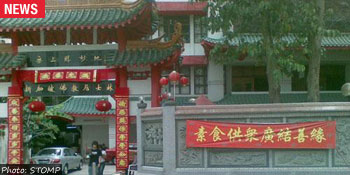 The temple prepared a giant reunion feast with some 300-kilogrammes of food - much more than last year.
This was because they expected a bigger turnout due to the tough economic times.
Some 500 needy Singaporeans from all races turned up for the feast, where they also received hong baos.
Volunteers spent many hours preparing the food and organising the annual event.