Home Asia Pacific South East Asia Singapore


Bihar govt offers 2 plots of land to Singapore Buddhist Lodge for Pilgrim Centre
By Tan Lek Hwa, Channel NewsAsia, February 21, 2009
SINGAPORE -- The 5th Nalanda Mentor Group meeting in Bodh Gaya in the Indian state of Bihar has been concluded.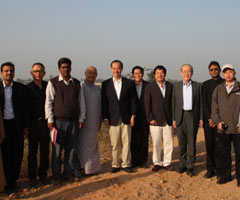 << Foreign Minister George Yeo with members of the Nalanda Mentor Group and Singapore Buddhist Lodge in Bodh Gaya

The group, which included Singapore's Foreign Minister George Yeo, called on the state's Chief Minister Nitish Kumar and updated him on details of the two-day meeting, which ended on Friday.

The Bihar government also offered for consideration two plots of land to the Singapore Buddhist Lodge to build a Pilgrim Centre for Singaporeans visiting Bodh Gaya.

The plots are near to where Lord Buddha gained enlightenment.

Mr Yeo accompanied the delegation to view the plots on Saturday.

He said: "The Chief Minister told me that we will then go through the procedures for the land that has been allocated to us. There is a hope that we can begin work on the Pilgrim Centre very quickly."





About Us
Get Breaking Buddhist News in your Email. Free subscription.

Please help keep the Buddhist Channel going

Point your feed reader to this location
Wikipedia: Buddhism by Country
Sangha Directory
Ecards
Wallpapers
E-Library
Archives
Sitemap
Submit an Article
Write to the Editor
Affiliation Program