Home Asia Pacific South East Asia Singapore


Singapore Buddhist Lodge gives S$475,600 worth of bursaries to students
Channel News Asia, 16 October 2010
SINGAPORE -- S$475,600 worth of bursaries from the Singapore Buddhist Lodge Education Foundation were given to 367 students from tertiary institutes on Saturday.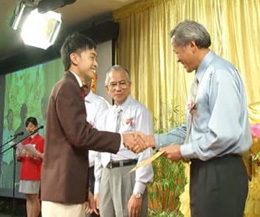 << Education Minister Ng Eng Hen (R) giving out the bursaries.
These students came from junior colleges, arts institutes, polytechnics and universities.
Among them, two outstanding students were given the "Endeavour Award" for their excellent academic results despite their financial and economic difficulties.
The awards are distributed under the organising efforts of the Singapore Buddhist Lodge, Jamiyah Singapore, Hindu Endowments Board and Taoist Federation.
Education Minister Ng Eng Hen says he's pleased that their collaboration in the past few years have allowed students from different races and faiths to benefit from the combined resources.
"This coming together of leaders and organisations of different races and faiths with the sole purpose of promoting the welfare and interests of the needy and disadvantaged demonstrates a uniquely Singapore spirit and cooperation. It is through such collaborations that we strengthen our social fabric and enhance social cohesion."
Since 1978, more than S$10 million worth of bursaries have been awarded to some 20,000 needy students.