Home Asia Pacific South East Asia Indonesia


One million candles to light up Borobudur
The Jakarta Post, June 27, 2005
JAKARTA, Indonesia -- Some 10,000 people are expected to attend the 50th anniversary commemoration of the Indonesian Buddhayana Council (MBI) at Borobudur Temple on July 23, with one million candles due to be lit up during the event.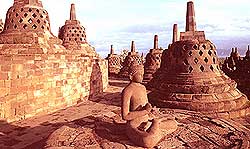 The event will also mark the use of Borobudur Temple for more than half a century as a place of prayer for Buddhists.
Among those invited to the commemoration ceremony were domestic and foreign visitors, as well as leaders of different religions. Around 100 Buddhist monks were also expected to attend.
MBI member Budiman said on Saturday that around 8,000 visitors had confirmed their attendance at the ceremony, during which prayers will be offered for Indonesia.
"The Indonesian people have suffered various tragedies, such as floods, tsunamis, earthquakes and malnutrition. By lighting the candles, we hope that we will be able to leave such trials behind us," Budiman said.
Committee chairman Daud Dharsono said the one million candles would remain lighted for 6 hours, adding that he hoped the event would make it into the Guinness Book of Records and the Indonesian Records Museum.
Among the prominent figures expected to attend are Minister of Religious Affairs M. Maftuh Basyuni, Minister of Culture and Tourism Jero Watjik, Abdurrahman "Gus Dur" Wahid, Ahmad Syafii Maarif, Franz Magnis Suseno, Sultan Hamengku Buwono X of Yogyakarta and Kwik Kian Gie.