Home Asia Pacific South East Asia Indonesia


Tzu Chi volunteers mobilize to provide relief immediately to Sumatra quake victims
ReliefWeb, March 8, 2007
At least 70 deaths from 6.3 quake in Sumatra
Padang, Sumatra (Indonesia) -- The 6.3 magnitude quake struck close to the city of Padang in the west of Sumatra Island, at 10:49 local time, killing at least 70 people and flattening buildings.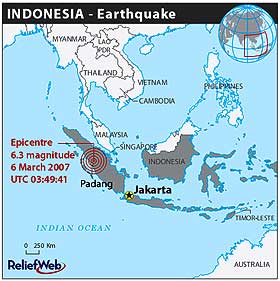 The quake was also felt hundreds of kilometres away in parts of Malaysia. Several high rises in Singapore's business district also swayed slightly.
Many around Padang remained out in the open, afraid or unable to return home because of several aftershocks. Upon receiving news of the Padang earthquake, Taiwan Buddhist Compassion Relief Tzu Chi Foundation (Tzu Chi) Indonesia mobilized local volunteers to respond in the aftermath.
A truck of the relief goods was prepared and sent by volunteers from Medan over 20 hours of travel to the disaster area in Padang on 6 March. By 7 March they will have received relief goods of rice, instant noodles, biscuits, and bottled water. Medan and Jakarta volunteers also joined in the relief effort.
Tzu Chi volunteers will continue to monitor disaster conditions and the needs of the affected villages, ensuring that appropriate care and assistance is provided for the disaster regions and victims.