Home Asia Pacific South East Asia Indonesia


Indonesian Minister calls for closure of Buddha Bar
The Jakarta Post, March 12, 2009
JAMBI, Indonesia -- Religious Affairs Minister M. Maftuh Basyuni has urged authorities to shut down the French Buddha-Bar franchise in Jakarta and other similar clubs using names linked with religion, saying it could offend religious followers.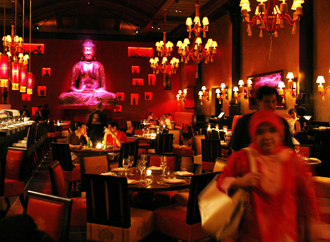 "If not closed, I am worried there will soon be an Islamic Bar, Christian Bar and other bars of that kind," he told a gathering of religious and community leaders in Jambi province Wednesday, as reported by Antara news agency.
Maftuh said the Buddha-Bar is a franchise outlet based in France, where he claimed religious harmony was not recognized, unlike in Indonesia.
"The presence of the Buddha Bar hurts followers of Buddha," he said.
The minister confirmed the Jakarta legislative body had demanded that the Buddha Bar be shut down. "This is important for religious harmony," he added.
Earlier, ministry director general for Buddhist affairs Buddha Budi Setiawan said the bar management had agreed to remove all Buddhist symbols from the club.
"We are still waiting for them to do this," Budi added.
On Tuesday, Indonesia Corruption Watch urged the Jakarta administration to clarify the ownership status of the restored building in Central Jakarta being used for the Buddha Bar outlet.