Home The Americas US Northeast


Buddhist monk to hold nonviolence workshop in Lexington
Wicked Local, Oct 03, 2009
Lexington, MA (USA) -- On Sunday, Oct. 18, Hancock United Church of Christ will host Zen Buddhist monk, Vietnam veteran and author Claude AnShin Thomas.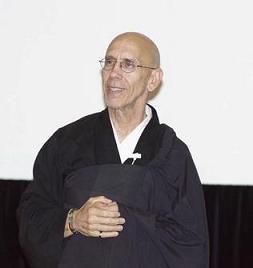 << Courtesy photo
Claude AnShin Thomas will visit Hancock United Church of Christ this month
He will lead a workshop entitled "Practices of Peace and Nonviolence" from 1:30 to 3 p.m. in the church's Kathie Stuart Room.
A decorated combat veteran, he began the study of Buddhism after a period of addiction and homelessness, and in 1995 was ordained in the Japanese Soto Zen tradition.
Today he teaches and speaks throughout the United States, Europe, and South America as a promoter of peace and nonviolence in the effort to address the repetitive cycles of war and violence. He is also the author of "At Hell's Gate — A Soldier's Journey from War to Peace.
The workshop is free and open to the public (donation suggested). For more information, contact Duncan Hilton or call Hancock Church at 781-862-4220.