Home The Americas US South


Buddhist Priests Solicit Support For Temple
WTVF, June 14, 2007
NASHVILLE, Tenn. (USA) -- Two Buddhist priests or khenpos visited Nashville Thursday to help raise money to rebuild a temple in central Asia.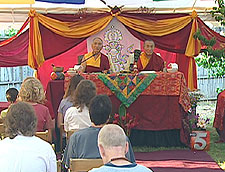 << Padmasambhava Buddhist Center
The men are from Tibet. They established one of Tennessee's Buddhist centers in 1987 and visited Nashville to rally support for their project.
The Venerable Khenpos also taught at Nashville's Dharma Center this week. They will be giving teachings Saturday and Sunday at Padma Gochen Ling, their retreat center near Monterey.
About Padmasambhava Buddhist Center (PBC)
Padmasambhava Buddhist Center (PBC) spreads the teachings of Buddhism according to the most ancient Buddhist school of Tibet. The Center was established in New York in 1989 by two eminent Tibetan masters, Venerable Khenchen Palden Sherab Rinpoche and Venerable Khenpo Tsewang Dongyal Rinpoche, brother lamas who escaped Tibet in 1959. PBC has over 20 centers in the U.S., Puerto Rico and Russia.