Home The Americas US South


St Louis Secrets: Buddhist temples
by J.A. Williams, St. Louis Spirituality Examiner, Jan 25, 2009
St.Louis, Louisiana (USA) -- When most people think of St. Louis, they do not think of Buddhist temples, but you may be surprised to find out otherwise.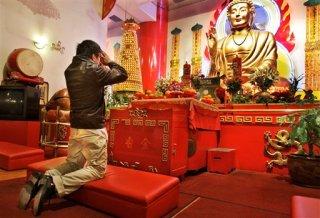 They say that peace begins at home, and it can be found at home, here in St. Louis. The area hosts two beautiful temples and meditation centers.
The Wat Phrasriratanaram, the Tai Buddhist Temple of Greater St. Louis is located in Florissant. The center offers Saturday night meditation from 7 to 9 p.m., and it is open to all. Details can be found here.
The Mid-America Buddhist Association is located in Augusta. The temple offers weekly Sunday services. Normal business hours are Friday and Saturday, 10 -3:30 p.m. Sundays, 9 - 4 p.m.