Home The Americas US Midwest


Dalai Lama gets exam at Mayo Clinic, speaks about compassion in medicine
The Associated Press, April 17, 2008
ROCHESTER, Minnesota (USA) -- The Dalai Lama received his annual checkup at Minnesota's Mayo Clinic Wednesday and later participated in a discussion about compassion in medicine.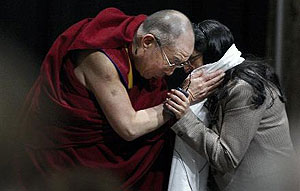 << The Dalai Lama offered a scarf as a thank-you gift to Dr. Nisha Manek, who works in integrated medicine at the Mayo Clinic in Rochester. The Tibetan spiritual leader spoke with about 400 of the clinic's doctors and nurses about compassion, mind-body healing and emotional well-being Wednesday. Richard Tsong-Taatarii, Star Tribune

The exiled Tibetan spiritual leader warned the audience beforehand that the main reason he was inRochester was for his medical exam and not to be part of a serious discussion. Still, he answered doctors' and nurses' questions during a discussion that lasted 2 1/2 hours.
The Dalai Lama said caring for patients is selfless, noble work. He encouraged the health care workers to show compassion for their patients, saying that a person's state of mind can help or hurt their body's ability to heal.
When asked for wisdom about keeping healthy, the Dalai Lama said he exercises regularly and gets 8 to 9 hours of sleep. He said he does not eat dinner so that he always wakes up hungry.
The Dalai Lama has visited the clinic before for his medical checkups. He started his U.S. visit in Seattle earlier this week, and plans other stops in Ann Arbor, Michigan, and Hamilton, New York.