Home The Americas US Midwest


New Year celebrations at the Indiana Buddhist Temple
ColomboPage News Desk, April 22, 2009
Fort Wayne, IN (USA) -- Indiana Buddhist Temple in Fort Wayne, IN held its Sinhala and Hindu New Year celebration on Saturday April 18, 2009. Resident monks of the Temple, Ven. Thalangama Devananda Thero and Ven. Neluwe Seelawimala Thero welcomed the participants.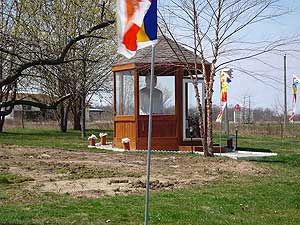 The day's events started with the lighting of the traditional oil lamp and the religious customs were observed to evoke the blessings to all including the people in Sri Lanka for peace, good health and prosperity.
A special blend of herbal oil was sent for the occasion by Kotte Rajamaha Viharaya in Sri Lanka for anointing oil. The Avurudu table was filled with the traditional Sri Lankan sweets and food.
The participants, adults as well as children enjoyed the traditional Sri Lankan games well in to the evening and the event ended with a fun game of cricket played by Sri Lankan and non Sri Lankan friends and devotees who attended the event.