Home The Americas US Midwest


Dalai Lama to visit Madison in May
By Tenzin T. Phuntsog, Phayul, March 8, 2010
Madison, Wisconsin (USA) -- At the invitation of the University of Wisconsin-Madison, His Holiness the Dalai Lama will inaugurate the public opening of the Center for Investigating Healthy Minds at the UW Madison on the weekend of May 15-16.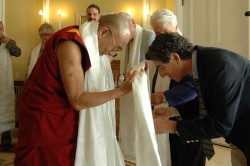 << His Holiness being greeted by Dr. Richard Davidson in Madison 2009. Photo by Sherab Lhatsang
The Center was established by the renowned UW-Madison neuroscientist, Dr. Richard Davidson. Since his initial meeting with the Dalai Lama in 1992, Dr. Davidson has been collaborating with His Holiness to explore the intersection of Western science and Buddhist Meditation.
Dr. Davidson's research examines the effects and benefits of meditation on the human brain, and the development of positive emotions.
This will be His Holiness' 8th visit to Madison since 1979. The Wisconsin Tibetan Association (WTA) will organize an audience with His Holiness at the Monona Terrace Convention Center for members of the Tibetan communities in the Midwest.