Home The Americas US Central


Thich Nhat Hanh visits Colorado
by Adam Chodak, 9NEWS, Aug 24, 2007
ESTES PARK, Colorado (USA) -- He is a leader in the Buddhist community. In 1967, Martin Luther King nominated him for the Nobel Peace Prize. Friday, Thich Nhat Hanh was in Colorado.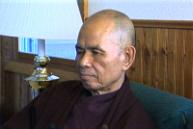 Nhat Hanh is a Zen master, an author, an activist and a teacher. This week, he has donned the cap of retreat leader.

Around 1,000 people gathered at the YMCA of the Rockies for a Buddhist retreat.

Under the guidance of Nhat Hanh, those in attendance have worked to follow the retreat's message: Building a foundation for the future in the here and now.

To Nhat Hanh, this especially means protecting the environment.

"We want not to talk about saving the planet. We actually save the planet by our life. We want to walk the walk, not just talk the talk," said Nhat Hanh.

He says driving less and making other life style changes can help to decrease pollution and carbon dioxide.

Nhat Hanh adds this effort must be coupled with efforts to change ourselves.

"Many, many wonders of life are there around us and in us like our eyes. Our eyes are a wonder," said Nhat Hanh. "We need to open our eyes in order to get in touch with the paradise of forms and colors."

Nhat Hanh says the job of getting in touch with such forms and colors is especially easy within the Rockies.