Home The Americas US Central


Missoula man, woman part of Buddhist delegation that accompanied exiled monk-activist on visit to Vietnam
By JOHN STROMNES of the Missoulian, April 5, 2005
Missoula, MT (USA) -- Rowan Conrad, director of Missoula-based Zen community Open Way Sangha, recently traveled to a monastery in Vietnam to participate in a delegation under world-famous monk and activist Thich Nhat Hanh.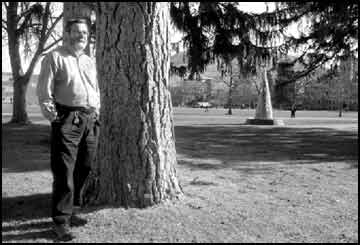 << Rowan Conrad - Photo by LIZ GRAUMAN/Missoulian
Conrad is a lay Buddhist cleric under Naht Hanh's Order of Interbeing, meaning that he practices the religion while remaining an active participant in the secular world. Conrad also works for the Office of Career Services at the University of Montana.
Exiled for 40 years from Vietnam, Zen Buddhist monk and nonviolent anti-war activist Thich Nhat Hanh returned in January to his homeland and the monastery that he joined at the age of 16, more than 60 years ago.
With permission from the Communist government, Nhat Hanh brought with him a delegation that was limited by the government to 100 monastics from his monasteries in the West and a "revolving" lay delegation not to exceed 90 people at any one time.
The lay delegation was made up of Buddhists from all walks of life in 22 countries. Each had been profoundly influenced by Nhat Hanh's teaching of "engaged Buddhism," and by his example of living a life of simplicity, peace, mindfulness and compassion.