Home The Americas US West


Stolen Buddhist Prayer Wheel Returned To Fremont Yoga Center
KiroTV.com, March 20, 2007
Seattle, WA (USA) -- A beloved piece of art that was stolen from outside a Seattle yoga studio has been found. The Tibetan prayer wheel was found wrapped in a pair of plastic garbage bags, still in good shape.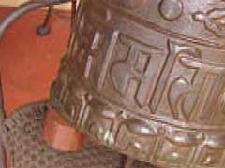 << Tibetan prayer wheels are devices for spreading spiritual blessings and well being.
Last week, a thief ripped the 30-pound, handmade drum from its post at the Planet Earth Yoga Center in Fremont.
Many thought it might be because it's made of copper, a metal that's become a very hot commodity.
"I thought it was gone. I thought it was scrapped by now," said Laura Yon-Brooks of Planet Earth Yoga Center. "I never thought we'd see it again. I'm so excited."
The owners are going to put the prayer wheel back up in its original location, but with a stronger post.