Home The Americas US West


Obon Fest honors heritage West Covina Buddhist Temple
SGV Tribune, June 26, 2010
San Gabriel Valley, CA (USA) -- The West Covina Buddhist Temple celebrated the 2010 Obon Festival Saturday at the East San Gabriel Valley Japanese Community Center.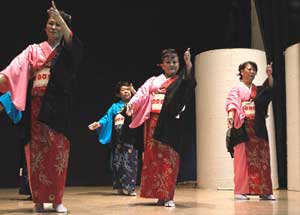 << Minyo Dance Group during the Obon Festival at the East San Gabriel Valley Japanese Community Center on Saturday, June 26, 2010, in West Covina. (SGVN/Staff Photo by Keith Birmingham)
One of the most important traditions for Japanese people, the event was full of colorful costumes, culture, drumming performances and cuisine, with the Bon Odori dance as the highlight.
The Buddhist event is a special family gathering time where they practitioners traditionally observe a Manto-e - or lantern-lighting - service before the dance.
"Though some might term this `ancestor worship,' you can see that in the context of the Buddhist teachings, this is really an expression of a person's deep appreciation for the life they've been given by the love and sacrifice of their ancestors," said Peter Hata of the Buddhist temple. "The Bon Odori dancing represents the natural celebration we feel when we appreciate this truth."