Home The Americas Canada


Buddhist temple in Cote des Neiges seeking expansion
by Sean McKeogh. CJAD 800, Oct 4, 2015
Montreal, Canada -- The monks of the Quan Am Buddhist temple have been locked in a battle with the city of Montreal over the past decade concerning the expansion of their congregation in Cote des Neiges, despite having the land to do so.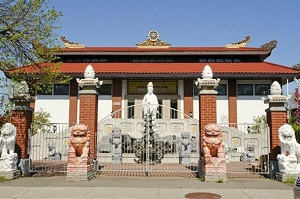 After repeated attempts to expand only to have their requests blocked by the city time and again, the monks have hired attorney Julius Grey in the hopes of expanding their facilities.
Grey told CTV Montreal he believes that the city feels the Quan Am temple is on lands zoned for "places of worship". Apprentice monks live at the temple, which according to the city means it is classified as a monastery, and not a place of worship. Grey is hoping to get a declaration broadening the definition of the term "place of worship".
The family of Chantal Phan recently held a Buddhist ceremony for her deceased grandmother, but Phan says not everyone could attend because there wasn't enough room. She called the temple a gathering place for many Vietnamese in Montreal. Phan says she's worried that Buddhism could be at risk of extinction if the temple cannot train the next generation of monks.
The monks have started an online petition in the hopes of expanding the Quan Am temple that has nearly one thousand signatures since it was launched in August.