Home Op-Eds & Issues Healing & Spirituality


Alcoholism 'is all in the mind' says Buddhist centre
By Jessica Smith, East London Advertiser, June 27, 2007
London, UK -- BUDDHISTS have dreamed up a new method of helping fight alcoholism in the East End.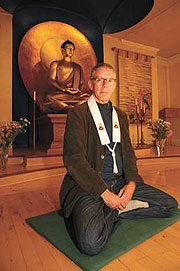 << Project director Maitreyabandhu
Now they have landed a £300,000 grant to convert a spacious basement into the Breathing Space 'health and well-being' centre.
Treatment works by training addicts to identify the thoughts that trigger relapses at an early stage, says its director, Maitreyabandhu.
"It is about working with thoughts and seeing that they are just thoughts, not facts," he explains.
"This therapy is about how you manage your mind."
The centre has received the grant from Futurebuild, a Government-backed investment agency, to run the non-religious pilot programme at the London Buddhist Centre in Bethnal Green.
The method uses techniques from meditation with traditional therapy practices, which are claimed to help people from relapsing into depression, stress and pain as well as alcoholism.
Those taking the eight-week course, which costs £120, also get CDs to practice the technique at home.