Home World


Dalai Lama yearns to return home
Indo-Asian News Service, November 7, 2004
Johannesburg, South Africa -- The Dalai Lama no longer wants an independent or a separate Tibet, but yearns to go back to his country to meet his people. He is optimistic about the new Chinese leadership.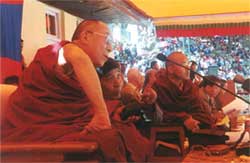 The Buddhist leader, who has been living in exile in India since 1959, said as he began his third visit to South Africa that he had "a keen desire" to return to China and meet his people.
The Dalai Lama, who arrived in South Africa on Wednesday, also expressed a yearning to undertake a pilgrimage to shrines and temples on the Chinese mainland.
Two months ago, representatives of the Dalai Lama met the Chinese government but there still appears little chance of a visit by the leader, as Beijing wants him to make a public declaration that he recognises Tibet and Taiwan as "unalienable parts of China".
The Chinese government refuses to recognise the Dalai Lama as a religious figure, insisting that he is a political exile involved in activities to split China.