Home World


Dalai Lama's praise for Indian-origin South Africans
Press Trust of India, Nov 7, 2004
Durban, South Africa -- The Dalai Lama praised the Indian-origin South Africans for keeping alive the tradition, culture and religious practices of India, the country which he described as his "spiritual home".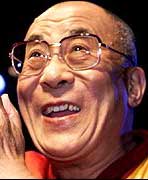 The spiritual leader of the Tibetan people, who is on a visit to South Africa, also held a meeting with Zulu leader Mangosuthu Buthelezi, during which they exchanged views on culture, religion and world politics, according to aides.
The meeting took place at the Swama Sivananda Divine Life Society International Centre at La Mercy, north of Durban where the Dalai Lama launched the society's book How to Attain Peace of Mind? and was treated to traditional Zulu and Indian song and dance.
"Hinduism has a long tradition and Buddhism draws many practices from the old, ancient traditions of India. In many ways Hinduism and Buddhism are twins. I am very happy that you are keeping alive so many religious and cultural practices of my second home India, which is my spiritual home as well," he said while referring to the local people of Indian origin.
During the address to the members of the society, he also stressed on the need to promote "different cultural traditions and spiritual upliftment."
"All religions teach us love, compassion, forgiveness, tolerance, contentment and self-discipline," he said.
The Dalai Lama, who is visiting South Africa at the invitation of the Tibet Society of South Africa and the African Cultural Heritage Society, held talks with former President Nelson Mandela two days ago.