Home World


Dalai Lama likely to visit Israel next year: Report
Press Trust of India, Dec 9, 2004
Jerusalem, Israel -- Tibetan spiritual leader the Dalai Lama is expected to visit Israel next year to establish a Buddhist stupa near Arada in south of the Jewish State. The establishment of the Buddhist structure has been planned by artistes Ruth Katz, Ifrat Farshalom and Sefi Hanegbi, Ha'aretz daily reported today.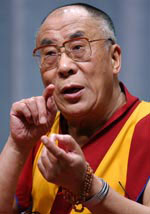 Two Tibetan monks would visit the place on Sunday to perform a small ritual and ask for forgiveness of plants and animals there for establishment of the stupa.
Katz would meet the Dalai in February to consult about the structure and collect some objects from him which would be put on the stupa.
The Dalai is expected to visit Israel in July next year for establisment of the stupa, the paper said Hanegbi has also established a spiritual centre called 'Desert Time' (Jaman Midbar in hebron) near Arada towards the end of Yehuda desert, the paper said, adding the centre offers courses on healing, yoga and medicines.