Home Asia Pacific South East Asia Myanmar Myanmar Protest News


Burmese riot police attack monks
BBC, September 26, 2007
Images of damage on Rangoon's streets have been emerging
Rangoon, Burma -- Several thousand Burmese monks and other protesters have held new marches in Rangoon despite a bloody crackdown by police at the city's holiest shrine.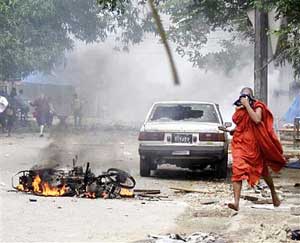 << In this photo released by the National League for Democracy-Liberated Area, Buddhist monk walks past a motorcycle which was get burned in Yangon, Myanmar on Wednesday September 26,2007. Security forces fired warning shots and tear gas canisters while hauling militant Buddhist monks away in trucks Wednesday as they tried to stop anti-government demonstrations in defiance of a ban on assembly. (AP Photo/ National League for Democracy-Liberated Area)

Police beat and arrested demonstrators at Shwedagon Pagoda, including up to 100 monks, on the ninth day of unrest against the military government.

One march started for the city centre while another headed for the home of opposition head Aung San Suu Kyi. Security forces have reportedly ringed six key monasteries in the city.

Analysts fear a repeat of the violence in 1988, when troops opened fire on unarmed protesters, killing thousands.

Anger is growing among the protesters in Rangoon over the treatment of the monks, the BBC's South East Asia correspondent, Jonathan Head, reports.

'Covered in blood'

A clampdown on the media by the government, which has banned gatherings of five people or more and imposed a night-time curfew, makes following the exact course of Wednesday's street protests difficult.

It is known that several thousand monks and opposition activists moved away from Shwedagon Pagoda, heading for the Sule Pagoda in the city centre.

Reports suggest they were prevented from reaching it but other demonstrators did gather at Sule to jeer at soldiers.

Troops responded by firing tear gas and live rounds over the protesters' heads, sending people running for cover.

Monks marching to the home of Aung San Suu Kyi reportedly urged civilian supporters not to join them.

"We monks will do this, please don't join us, don't do anything violent," they were quoted by AFP news agency as saying.

Earlier, at Shwedagon Pagoda, riot police beat their shields with their batons and yelled at protesters before charging the crowd.

A number of the monks and nuns were left covered in blood and appeared to be seriously injured, and some shots were also heard, witnesses say.

British embassy sources say at least 100 monks were beaten and arrested.

"The riot police started to beat up the monks," one monk at Shwedagon Pagoda told the BBC.

"We were peacefully chanting prayers. They used tear gas and some monks were hit. Some monks were injured."

Demonstrators were dragged away in trucks as dozens were arrested.

Two of the country's most prominent dissidents, U Win Naing and popular comedian Zaganar, were arrested overnight.

'Different situation'

Aung Naing Oo, a former student leader in Burma who was involved in the 1988 uprising and who now lives in exile in the UK, believes the junta cannot stop the 2007 protesters.

"Nobody knew what was happening in 1988," he told the Today programme on BBC Radio Four.

"There was only very little information about the killings. Now with the internet and the whole world watching I think its a totally different story now and I think the other important difference is that in 1988 it was the students that were leading the demonstrations, but now it is the monks. Monks are highly revered in the country."

The junta broke its silence over the mounting protests late on Monday, saying it was ready to "take action".

US President George W Bush has announced a tightening of existing US economic sanctions against it.

America already has an arms ban on Burma, a ban on all exports, a ban on new investment and a ban on financial services.

The protests were triggered by the government's decision to double the price of fuel last month, hitting people hard in the impoverished nation.