Home Asia Pacific South East Asia Myanmar Myanmar Protest Global Support


Why ASEAN is the only hope
By Suresh Kumar and Martin Stuart-Fox, Channel News Asia, September 27, 2007
Singapore -- Tragedy again stares Myanmar in the face, as the country's military leaders begin their crackdown on the protesters after nine days of mass rallies.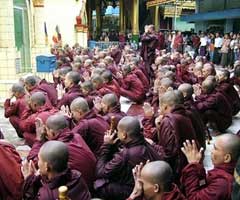 << Buddhist monks pray during a peaceful protest against the military government on a street in Yangon

What role will ASEAN (The Association of South East Asian Nations) play in preventing likely bloodshed? At the very least, it should send an urgent mission to persuade the generals not to resort to force.

Trouble for the junta began last month when the government imposed a severe fuel hike, which reportedly raised prices by as much as 500 per cent. The move reflected both poor economic management and how out of touch the Burmese military is with the people its rule has impoverished.

But if economic stress created the conditions for discontent with the regime, the trigger was the brutal crackdown of Sept 5 on protesting monks in the city of Pakokku. Authorities there attacked and beat monks, sparking nation-wide outrage. The Sangha demanded an apology. And when the apology didn't come, the monks began staging public demonstrations.

This is the first time since the 1988 uprising that Buddhist monks and students have come out to protest in numbers that have reached 100,000 this week.

Given the universal condemnation of its actions in 1988, why would the military contemplate a similar response to the current demonstrations? Very simply, the junta is determined to stay in power.

The 73-year-old junta leader, Gen Tan Shwe, has been ruthless in maintaining his power base, as he had demonstrated in the witch-hunt that culminated in the imprisonment of his Prime Minister, former military intelligence chief, General Khin Nyunt, and his backers in 2005. Few expect the general to be more accommodating to a group of monks chanting peace in the streets.

And if the generals take what followed the events of 1988 as a guide, they probably believe that a bloody crackdown would be met with nothing more than international protests. Can nothing prevent violence?

We can already rule out the likelihood of Gen Tan Shwe apologising on behalf of the military for what happened in Pakokku.

The only other person who might be able to bring the demonstrations to an end is Ms Aung Sang Suu Kyi. Yet given the years she has waited for a glimmer of democracy, she is likely to stay silent and her silence will speak volumes.

The only other possibility is that the military is divided, and that some elements might attempt a coup. This might have been possible had ex-Prime Minister Khin Nyunt not been arrested. Since his imprisonment, dissension within the military appears to have been crushed.

This leaves only international pressure.

If any country can stay the hand of the generals, it is China. However, Beijing has always proclaimed its principle of non-interference in the internal affairs of another country. In fact, China may already have exerted some pressure behind the scenes. But threats of sanctions, for example, are unlikely.

India is another country that has good relations with Myanmar, especially on a military-to-military basis. A joint approach with China, however, as urged by the International Crisis Group, is unlikely to materialise.

This leaves ASEAN as the only beacon of hope. Historically, ASEAN has also stuck firmly to its "non-intervention policy". However, amid much criticism, ASEAN did make a watershed departure from this position in 1997.

Adopting what is now known as "constructive engagement", it sent a mission to Cambodia to mediate and resolve the political crisis — a process that earned it much praise. This set a precedent by establishing what might be described as a "middle way" between Western threats and blandishments and the usual Asian response of looking the other way when human rights violations occur in neighbouring countries.

While ASEAN members have piously expressed their hopes for a peaceful solution in Myanmar, ASEAN's collective silence as an organisation is deafening. Yet it could make a critical difference by undertaking immediate "constructive engagement" through sending a goodwill mission to Yangon to argue strongly against the use of force while offering bridging financial and technical assistance.

The mission should comprise representatives from Thailand (as Myanmar's closest neighbour), Singapore (currently chair of ASEAN), and perhaps Malaysia or Laos, whose governments enjoy good relations with Yangon.

But whatever the composition of the delegation, ASEAN should act — and act fast — because Myanmar is a member state, and the region should sort out its own affairs.

Moreover, Myanmar owes something to its ASEAN partners. While the West imposed sanctions on the military regime after 1988, and treated Myanmar as a pariah state, ASEAN offered respectability through membership in 1997, and provided technical and financial help to let Myanmar meet the organisation's requirements.

ASEAN needs to act now rather than express regret when there is blood on the streets. For if that happens, it will not be just Myanmar whose international reputation will suffer, but the whole region.

------------------------------
Suresh Mark Kumar is a regional observer and commentator. Martin Stuart-Fox is Emeritus Professor at the University of Queensland.