Home > mercy
Monks' Relief Aims Thwarted
by Graeme Jenkins, National Post, May 16, 2008
Burmese cyclone victims seeking shelter at monasteries forced to relocate; Aid Still At Trickle
RANGOON, Burma -- After the devastation of Cyclone Nargis, the military junta has forcibly relocated tens of thousands of survivors from the Irrawaddy Delta, including many who had sought shelter in Buddhist monasteries, the centre of unrest during protests against the generals last year.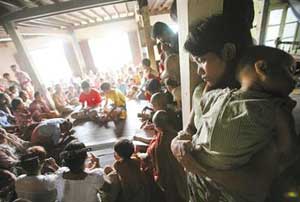 << Burmese people displaced by Cyclone Nargis wait for donations in a Buddhist monastery near Rangoon yesterday. While the official number of dead from last week's tragedy is 70,000, rains in the forecast

Ko Hla Min, a 35-year-old farmer who lost nine relatives in the storm, claimed people rounded up by soldiers around the devastated town of Bogalay were being used as work gangs.

"They have to break stones at the construction sites," he said. "They are paid $1 per day but are not provided with any food."

About 80,000 people sought sanctuary in schools and temples in the town of Labutta, which was left in ruins by the cyclone. Now, only about 20,000 are thought to remain after the military intervened.

The official toll of dead and missing is 70,000, although the Red Cross estimates the real number to be closer to 128,000.

"We still have hundreds of thousands of people without even basic shelter," said Uli Jaspers, head of the Red Cross and Red Crescent unit that is overseeing efforts to get clean water to cyclone survivors.

Torrential rains are forecast, which "could lead to a sharp increase in upper-respiratory tract infections such as pneumonia, especially among children."

Mosquito-borne diseases such as malaria and dengue fever may surge as early as next week unless aid is rushed to survivors, the World Health Organization said.

The Burmese government has repeatedly rejected calls to allow foreign relief workers to deliver food, clean drinking water, shelter and medicine.

The New Light of Myanmar newspaper, a government mouthpiece, has said the country can be rebuilt without outside help. "They will not rely too much on international assistance and will reconstruct the nation on [a] self-reliance basis," it said.

There were some indications yesterday this stance was changing.

The generals agreed to admit 30 Thai doctors and nurses, the largest foreign-aid contingent yet, said Noppadon Pattama, the Thai Foreign Minister.

"We are trying to convince them to allow rescue teams," he said. "However, we can't put pressure on them. We are going to talk and convince them."

As anger boiled over in the international community about the delays, Gordon Brown, the British Prime Minister, announced the United Nations would convene a summit somewhere in Asia to address the crisis.

"We will stop at nothing in trying to pressure the regime into doing what any regime should have done long ago," he said in London.

"We are way behind the curve compared to any other international disaster in recent memory," said Mark Malloch-Brown, a British diplomat. "I cannot recall a relief operation where, at least the international response, has been subjected to such delays."

The British comments follow a private luncheon in New York on Wednesday, hosted by John McNee, the Canadian ambassador to the UN, at which diplomats from the United States, Japan and other leading powers discussed UN hopes for a global conference on Burma.

John Holmes, UN emergency services co-ordinator, said increasing amounts of aid are arriving but no one knows how much is reaching the people most in need, those privy to the meeting said.

The Japanese ambassador said Emperor Akihito had written to the junta to ask it to allow in more help.

Meanwhile, aid agencies say the storm's timing could not have been worse. Tens of thousands of farm families lost draft animals, rice stocks and planting seeds. Now the harvest is in doubt as well.

"I think we're going to miss it, we're going to miss the harvest," said Hakan Tongul, deputy country director for the World Food Program in Burma. "Time is short."