Home > mercy
Myanmar monks a vital lifeline for cyclone survivors
AFP, June 2, 2008
YANGON, Myanmar -- A Buddhist monk in his maroon robe silently guards boxes of noodles, while another monk tries to plot an aid route to cyclone survivors using satellite print-outs of Myanmar's Irrawaddy Delta.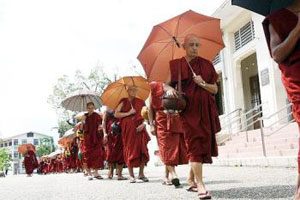 These monks at the Sitagu Buddhist monastery on the outskirts of Yangon are providing a vital lifeline to the storm survivors, as the United Nations estimated more than one million people have not received any international aid.

"I cry when they tell me their stories," said 71-year-old senior monk Nanissara.

"The situation remains very grim. The government news is just for show," he said, adding that government officials only receive "paper reports" from the the field and have never visited where aid was needed.

"Government figures are heavily edited," Nanissara said. He worries that the true death toll could be far higher than the government numbers of 133,000 dead or missing.

Myanmar's government "is not only materially, and physically poor, they are also mentally poor," he said.

Nanissara has received tonnes of aid from both private groups and foreign governments for distribution to survivors in the delta.

He has silently marshaled his loyal followers in missions across the region for weeks, reaching remote areas still unseen by foreign aid workers and where he said the ruling junta has not bothered to check.

One week ago, Myanmar offered assurances that foreign aid and relief workers would be able to enter the most devastated regions of the Irrawaddy.

But progress remains slow, and international frustration is again mounting at the pace of aid deliveries to 2.4 million cyclone victims who need food, shelter and medicine.

Nanissara said he knows of instances when foreign aid workers with truckloads of supplies were "restricted" and later told to head back. Other witnesses said they have seen the military distribute the aid among themselves.

Nanissara himself has just returned from Bogalay, one of the hardest-hit areas, where he supervised the distribution of 500 sacks of rice and more than 10,000 galvanised iron sheets for roofing.

With heavy rains pounding the delta, the monk said more deaths were possible.

"In my opinion, it is important to rebuild the houses now because the rains are very heavy," he said.

Volunteers have come to Sitagu from around the world, coordinating their work and fanning across the delta to deliver supplies and offer comfort to the grieving and shell-shocked populace.

One foreign monk volunteering here said that in Bogalay, he saw the military forcing hundreds of survivors to leave a school that had been converted into an evacuation camp.

"They were being relocated back to their villages, which remain submerged in water. So how are they expected to live like that?" he said. "And there are so many people that still need to be reached."

One month after the storm, countless human and animal remains lay uncollected, decaying in streams and rivers, he said.

Mar Mar, a 41-year-old Myanmar volunteer who has lived abroad for the past 20 years, said the outside world needs to rally aid to the impoverished country.

"I have been here for four weeks, and there has been no actual help from the government. Basically, we have had to do this on our own. We couldn't afford to just wait," she said.

"It is fair to say that many, many villages have not been reached. That is an undeniable fact," she said.

Mar Mar said she will stay as long as needed, and will continue to raise funds from her contacts privately, after handing over a 10,000-dollar check to the monastery.

The military, she said, should focus on helping rather than playing up a macho image of a tough government.

"This is very cruel," she said. "They are just returning the survivors to the villages now without any proper infrastructure or water or food."