Home Asia Pacific North Asia S/N Korea News & Issues


Pilgrims re-enact Korean Buddhist journey
By Simon Phillips, The Korea Times, Jan 17, 2012
Seoul, South Korea -- On a cold late December afternoon after fifteen days on the road a group of pilgrims arrived at a small cave high on Wonhyo-bong peak southwest of Seoul. They had achieved the first known re-enactment in more than 1,300 years of a journey the famous Korean Buddhist saint Wonhyo made from Gyeongju to the area of the cave, which now bears his name.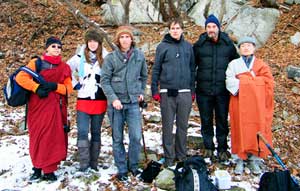 << Pilgrims stand in front of Wonhyo Cave on Wonhyo-bong, a 510-meter mountain peak near Seoul on Dec. 18. From left are Myanmar monk Pannabhoga, Canadian English teacher Rhea Metituk, Ph.D. student Chris McCarthy of the United States, South African English teacher David Watermeyer, Canadian M.A. student Tony MacGregor and Korean monk Sangmin Seunim. Missing from the photo is David Mason, a professor at Kyung Hee University in Seoul, and Park Wang-su, an organic farmer and guide for the last part of the pilgrimage.

The idea was conceived by Tony MacGregor in 2007 when he was working in Korea as a journalist and he was accompanied by Chris McCarthy, an American Ph.D. student and the chief navigator of the group.



The cave is an unpretentious place, a dark hole gouged into a huge rock, a good place to shelter from rain but not a comfortable place to spend a night. It was once venerated as the home of a mountain spirit before Wonhyo meditated in it, after which it became a Buddhist shrine honoring him. The cave provided a symbolic end to the journey, he said, and was not the actual spot where Wonhyo attained enlightenment, a place about which there is no consensus.

MacGregor said the pilgrimage was a joint effort between him and his friends and was inspired by the kindness and goodwill from Koreans that he and his friends had experienced during their stays here. "We wanted to say thank you to Korea and Koreans in a special way, and what better way than through a pilgrimage to honor Korea's most beloved and respected Buddhist saint Wonhyo."

Wonhyo (617-686) was born into a simple family in the Shilla Kingdom, and after his enlightenment became a great scholar for many years with more than 80 commentaries and essays to his credit. He then renounced the formal religious life to teach and inspire ordinary people. He was known to carry a gourd, dancing and singing around the country, encouraging people to chant and recite the Buddha's name. He called himself "muae-gursah" (unhindered practitioner). He even spent a night with a Shilla princess who then had a son that later became a leading Confucian scholar.

His philosophy centered on oneness or "ekayana," the interrelatedness of everything in the universe. Legend has it that this view arose from an event that took place while he was attempting to travel to China. That event was the focus of the pilgrimage.

MacGregor, a Buddhist for about 20 years, said he began learning about Korean Buddhism shortly after he arrived here in March 2005 at the International Zen (Seon) Center located at Hwagye Temple in Seoul. He began reading about the lives of Korean Buddhist teachers and came across Wonhyo, whose tangled, unconventional life and brilliant teaching fascinated him. He discussed the idea of a pilgrimage with his friends and they grabbed hold of the idea and finally pushed it to completion.

McCarthy, who revived the Wonhyo project after it had fallen into a hiatus for several years, said that when they started the pilgrimage in Gyeongju they emphasized the importance of the inner journey. "We tried to use the physical journey as a tool to facilitate the inner journey, a journey towards self understanding," he said.

He added that the inner journey had been heightened by the daily hikes, sometimes lasting six or seven hours and by our daily discussions about Wonhyo's teachings and life.

David Watermeyer, a South African who teaches English at Dongguk University, one of the original planners of the project and a veteran of the famous Camino de Santiago pilgrimage in Spain, said walking is a wonderful way of creating an open, meditative state of mind.

"Once you get into the swing of the hike you can simply focus on the present moment, putting one foot before the other in the midst of the ever-changing and often beautiful scenery," he said. "It's a wonderful way of coming back to yourself. It puts you in touch with ancient and fundamental knowledge and feelings."

He said there were many parallels between the Camino de Santiago and the Wonhyo Trail, especially in variety of scenery. "But the most obvious difference was that we were blazing the trail. We were the first to walk the Wonhyo Trail so every day was a step into the unknown while the Camino de Santiago has been walked for hundreds of years and it has a well developed infrastructure."

He added that they didn't completely walk the Wonhyo Trail because a lot of work still needs to go into developing a workable route. At times the pilgrims took public transportation and were given a lift from a friend. "That's something that needs to be looked at closely," he said. "We have an opportunity now to refine and improve the trail we explored."

Other pilgrims included David Mason, a professor at Kyung Hee University in Seoul, who outlined the route linking a series of temples across the peninsula from Gyeongju to the final destination; Sangmin Seunim, a Korean monk who provided invaluable service as an interpreter and the link between the pilgrims and the temples; Rhea Metituk, a Canadian English teacher who joined the pilgrimage whenever she could, bringing her good humor, organizational skills and a curious outlook; Pannyabhoga, a monk from Myanmar, who used to lead a meditation group in Seoul; and Park Wang-su, an organic farmer and the guide for the last part of the pilgrimage.

On the last day of the pilgrimage in front of Wonhyo's cave, MacGregor gave a brief talk thanking the pilgrims for their efforts and handed out necklaces from which a small skull hung, the symbol of Wonhyo's enlightenment.

Later he talked about the permanent legacy of a pilgrimage. "It should affect you permanently and this pilgrimage has for me. Whenever I recall the many acts of kindness we experienced on the journey I cannot help but feel a deep sense of gratitude. I also keep in mind Wonhyo's teachings about the importance of the small things in life and try to find satisfaction in the little things that gave me so much pleasure during the pilgrimage such as the sound of ice cracking under my boots, the taste of mulberry juice and the warm smile of a cleaning lady."

The group hopes to hold another Wonhyo pilgrimage in 2012 and write a book about the first Wonhyo trip over the next few months. More information about the pilgrimage can be found at www.inthefootstepsofwonhyo.

-------


Simon Phillips

is a contributing writer for The Korea Times.

Korean Buddhist News from BTN (Korean Language)

---

---






Please help keep the Buddhist Channel going

Point your feed reader to this location