Home Asia Pacific North Asia S/N Korea News & Issues


Tibetans and Koreans jointly mark 54th Tibetan National Uprising Day
by Emi Hailey Hayakawa, BTN, march 25, 2013
Seoul, South Korea -- On March 10, 2013, Tibet House Korea and Jogye Administration of the Jogye Order of Korean Buddhism held an event at the Buddhist History and Cultural Memory Hall of Jogye Order of the Korean Buddhism in Seoul to support the 54th Tibetan National Uprising Day.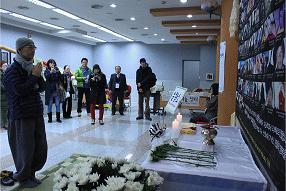 The Tibetan community and over 200 Korean supporters gathered at the Memory Hall, where Geshe Tenzin Namkha addressed the audience on the urgent situation inside Tibet, and a special video message by Sikyong Dr. Lobsang Sangay of Central Tibetan Administration in Dharamsala, India, was shown to the Korean audience.

In his video message, the Sikyoung stated, "The occupation and repression in Tibet by the government of the People's Republic of China are the primary conditions driving Tibetans to self-immolation. Tibetans witness and experience China's constant assault on Tibetan Buddhist civilization, their very identity and dignity. "

He continued to state, "Finding a just and lasting solution to the issue of Tibet is also in the interest of the world at large. Tibet, one of the oldest civilizations is viewed as the Third Pole as its glaciers feed the 10 river systems of Asia. It will contribute to the peace and prosperity of over a billion people in Asia who live downstream and depend on Tibet's water for sustenance. A speedy resolution will send the right message and serve as a model for other freedom struggles as the Tibetan struggle is one firmly anchored in non-violence and democracy. Last, but not the least, solving the issue of Tibet could be a catalyst for moderation of China."

During this event, the Jogye Order of Korean Buddhism announced its continued support for regarding the Tibetan situation affirming and further solidifying the Korean Buddhist's support for Tibet.