Home Asia Pacific North Asia S/N Korea News & Issues


Buddha's Birthday Celebrations Muted Due to Ferry Disaster
Chosun Ilbo, May 12, 2014
Seoul, South Korea -- The colorful lanterns adorning Seoul's Jogye Temple welcomed thousands of people, including lawmakers, celebrities and Buddhist leaders Tuesday who came to celebrate Buddha's 2,558th birthday.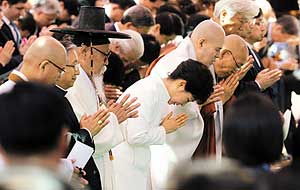 But the mood was subdued as the hour-long ceremony was dedicated to the victims of the ferry disaster off the southwest coast on April 16.
Park Geun-hye is the first president to attend the event marking Buddha's Birthday. She expressed regret over the ferry tragedy and pledged to institute fundamental changes in policies and systems to protect people's lives and safety.
The 20,000 Buddhist temples throughout the nation conveyed similar messages on the day, expressing condolences for those who lost their lives and reflecting on how to prevent similar tragedies from occurring.