Home Asia Pacific North Asia S/N Korea News & Issues


Korean Buddhist delegation promises to build Bhikkhu hospital
Ceylon Daily News, March 21, 2016
Colombo, Sri Lanka -- A Korean Buddhist delegation who met President Maithripala Sirisena yesterday have agreed to build a new hospital for Bhikkus in Sri Lanka.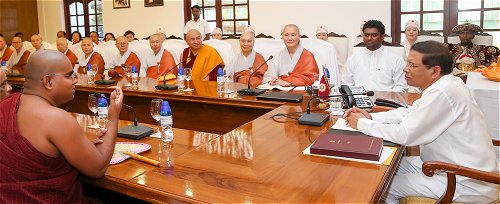 The Korean Buddhist delegation led by Ulsan Chaje Bhikku hospital in Korea owner, Ven.Bhikkhuni Nong Henge discussed this matter with President Maithripala Sirisena at the President's official residence of the yesterday.

The new Bhikku hospital comprising 34 rooms equipped with all modern facilities is expected to be built in Kiriwanthuduwa, Piliyandala.

During the discussion, President Sirisena said this was another a significant landmark in the historical relations between Korea and Sri Lanka. The President said further said coming forward to build the Bhikkus hospital in Sri Lanka is a highly meritorious act.

President Sirisena also thanked the Korean government for providing employment opportunities to Sri Lankan youth and recalled his discussions with the Korean President during his recent visit to NewYork, where he re requested the Korean leader to provide more job opportunities for Sri Lankan youth in Korea.

Ven. Bhikkhuni Nong Henge said the delegation has been able to venerate Sri Dalada Maligawa and several other sacred Buddhist sites in Sri Lanka during their visit and added they were very fortunate to have done so.