Home Asia Pacific North Asia S/N Korea News & Issues


3rd Buddhist Retreat by Chuyen Tu Monastery held in Korea
By Dieu Thanh, The Buddhist Channel, May 2, 2016
Cheongju-si, South Korea -- Due to high desires to study Buddha Dharma, Vietnamese devotees of Chuyen Tu Monastery (Ba Ria - Vung Tau province, Vietnam) residing in Korea organized the 3rd Buddhist Retreat on April 2016.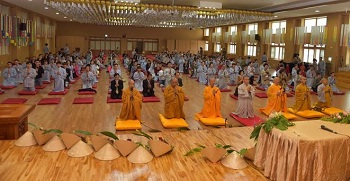 Held at Myeong Jang Sa at Chungcheongbuk-do, the three-day retreat attracted about 500 participants. Under the topic "Building Happiness", both Vietnamese and Koreans joined the retreat in order to find inner peace, away from stress of modern daily life.
Chanting, repentance, walking meditation and Dharma talks – all these activities were joined in by both Korean monks and lay Buddists of Myeong Jang Sa. All participants showed their happy cultivation in a peaceful spirit despite the language barrier.
Even though this was the first time the participants have met and worked together, they took care of each other as if they were relatives for many lives. They listened to each other and had deeply sympathized with one another on the miseries that they had endured.
Many good memories were exchanged and engraved in every participant's heart. After the retreat, they felt great happiness while being enlightened to the way of inner peace.
The 4th Buddhist Retreat is being planned and expected to be held on October 2016. The organizers welcome anyone searching for inner happiness to register for the upcoming retreat.