Home Asia Pacific North Asia S/N Korea News & Issues


Buddha finger relic stirs worship fervor in S. Korea
Xinhuanet, Nov 23, 2005
SEOUL, South Korea -- Sealed inside a miniature golden pagoda with a bullet-proof glass framework outside, a Buddha bone finger previously kept in the northwest ancient Chinese city of Xi'an is drawing incessant crowds in South Korea.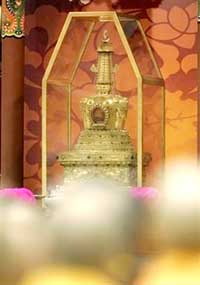 Some spectators were so deeply touched on the sight of the Buddha finger relic that they burst into tears.
Hosted in a grand gymnasium in the South Korean capital of Seoul, the 2,500-year-old bone, believed to be the middle finger sarari of the Sakyamuni Buddha, has drawn thousands of Koreans to come around paying respects and praying for good future.
Ferried to Seoul on Nov. 11, the finger, one of China's most precious cultural relics guarded by four young Chinese monks round-the-clock, is scheduled to stay here for more than 20 days before it is moved to Busan to conclude its 42-day trip for display in the country.
On the same day, the finger bone was delivered to the Inche on airport in a chartered plane after a 1,843-km flight.
Before this, a grand gala attended by thousands of Chinese Buddhists was conducted in its host site of the Famen temple in Xi'an, capital of western China's Shaanxi province.
Though local media did not give it a big coverage, the one-inch-long finger still witnessed incessant groups of worshipers wearing their festival costumes from across the country.
"To see the finger is the same as seeing the Buddha himself," said Master Hwei Cheung, abbot of a local Korean temple. "It would surely bring about plenty of love and peace for our people and country."
Lee Ivnok, a Seoul resident, burst into tears at the first sight of the relic. Lee said she prayed a lot for her family, friends and herself.
"I felt excited and warm from inside ... as if an old grandfather were just around," she said. "It is really different from how I felt in a usual abstract way about the Buddhism."
More South Korean followers are expected to rush here to honor the precious relic, analysts say.
South Korea has more than 20 million Buddhism followers, who view the coming of the finger as the most important event in their lives.
Lee had told all of her relatives and friends about the display of the finger. "I'm sure they will all come to mark it as I did."
Though himself not a Buddhism follower, Mr. Kim still take her wife and daughter to pay homage to the relic. "It can help purify our souls and forge good relations with my neighbors."
Hwei Cheung said the powerful finger will help Koreans to overcome various difficulties they are faced with and render them a bright future.
"It will also help reunify our separated peninsula and bring about more development and happiness for Koreans," he said.
Hsun Shan, one of the top ROK monks, takes the event as the result of the long-standing friendship between the Buddhists and people from South Korea and China.
"The consecration has posed a rare opportunity for the Buddhists from the two countries to look forward to a more promising bilateral relationship," he said.
According to Sheng Hui, vice president of the China Buddhist Association, the event is widely viewed as one of the best occasions for cultural exchanges between the two countries in more than 1,600 years.
"The event has fully showcased the brotherhood between the Chinese and the South Korean monks and lay masses," he said. "It will help further advance the friendship and enhance mutual understanding between the two nations."
Before this event, the finger had been taken out of the host Famen temple for display in Thailand, China's Taiwan and Hong Kong respectively in 1994, 2002 and 2004 and had attracted millions of people.
The finger was found in 1987 together with 2,499 pieces of relics from the underground chamber of a pagoda, half of which had collapsed due to consecutive days of rain, after remaining unseen for 1,113 years.
Archaeologists said the bone relic is part of Sakyamuni's middle finger, which had survived a religious rite when Buddha's remains were cremated by his followers.
Also found together with it were sariras of a scull bone, three teeth and thousands of tiny ball-shaped sariras.
Sakyamuni, born in BC 565 and died in BC 485, was the founder of Buddhism. His remains were preserved after he achieved nirvana.
The finger is cherished as one of China's top cultural and religious relics and worshipped by the Buddhists from across the world.