Home Asia Pacific North Asia S/N Korea News & Issues


Jogye Orders Gears Up for Buddha's Birthday
Chosun Ilbo, April 28, 2006
Seoul, South Korea -- This year, the Buddha's 2,550th birthday overlaps with Children's Day. For this reason, the Jogye Order of Korean Buddhism has determined that this year's slogan will be, "The children's heart is Buddha's heart."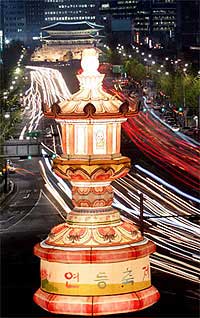 << A large lantern stands in front of Seoul City Hall to celebrate the Buddha's upcoming birthday on May 5.
In Buddhist belief, all people partake of "Buddha nature," and children's hearts, which have not yet been polluted by the world, are the closest to the Buddha's enlightened state.
Starting with the lighting of a huge lantern in front of Seoul City Hall on May 18th to pray for a cohesive society and peace, each order has been preparing a wide variety of celebratory events. A lantern procession in which around 50,000 believers will take part will be held from 7 p.m. to 10:30 p.m. on Sunday, starting at Dongdaemun and moving on to Jongno and the Jogye Temple.
The number of foreign participants is going up, with some 250 reserved for foreigners in a lantern making competition taken in just 10 days. The Jogye order expects some 10,000 foreigners from more than 20 countries to take part in the events.