Home Asia Pacific North Asia S/N Korea News & Issues


US Forces Korea returns antique Buddha statues
ChosunIlbo, Nov 20, 2006
Seoul, South Korea -- Three Buddhist statues and a tombstone have been returned to the Cultural Properties Administration after being kept for decades in U.S. Forces Korea bases.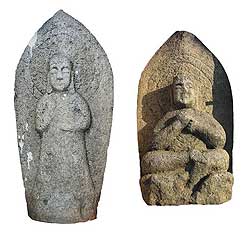 The CPA said Sunday the artifacts, which had been in a USFK office in Daegu, were returned "as a starting point in our efforts to protect our cultural properties at USFK bases that will be returned according to the Land Partnership Plan."
The artifacts were housed at Camp Hialeah in Busan and were moved to the camp in Daegu in August after the Busan camp was closed. The statues are 87-88 cm high and have a halo.
They are presumed to have been made by the same artist, but experts disagree when, since they could not be examined while housed at the base. Some say they were from the Unified Shilla period (668-935) and others from the Chosun period (1392-1910). The CPA will display them at the Busan Metropolitan City Museum.