Home Asia Pacific North Asia S/N Korea News & Issues


South Koreans flock to temples for Buddha's birthday
Yonhap News, May 24, 2007
Seoul, South Korea -- Hundreds of thousands of South Koreans flocked to some 20,000 temples around the nation on Thursday to celebrate Buddha's birthday.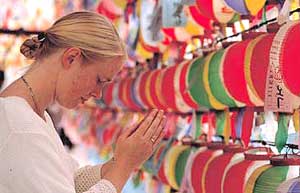 In his national holiday message, President Roh Moo-hyun urged South Koreans to build a society characterized by trust and tolerance.

"I believe that Buddhism, which has emphasized harmony and co-existence, will play a major role in helping us quickly build a modernized Korea," Roh was quoted as saying.

At Jogye Temple, one of the most popular places of worship for Buddhists in the capital city, about 100,000 devotees gathered to celebrate the occasion.

"Buddha gave up his position as a prince and lived a life open to all the people, regardless of their origins," said Ji Kwan, a leading member of the Jogye Order of Korean Buddhism. "We will all become Buddha if we serve our neighbors as Buddha."

Along with Christianity, Buddhism is one of the most popular religions in South Korea. About one-third of South Korea's population of 48 million is believed to be Buddhist.

The country's presidential hopefuls seized the day to win over the hearts and minds of Buddhist followers.

Former Seoul Mayor Lee Myung-bak, who is the front-runner for the presidential race, and his closest rival Park Geun-hye, former GNP chairwoman, attended the ceremony in the temple.

Independent presidential underdog Sohn Hak-kyu, as well as the pro-government Uri Party's former chairmen, Chung Dong-young and Kim Geun-tae, also took part in the ceremony.