Home Asia Pacific North Asia S/N Korea News & Issues


Korean Minister 'Tried to Hush Up Degree Scandal'
Chosun Iblo, Aug 24, 2007
Seoul, South Korea -- A senior Cheong Wa Dae official attempted to hush up revelations that a prominent curator had faked her degree immediately before the scandal broke in July, it has been revealed.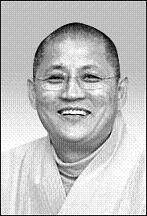 << Buddhist monk Jangyoon, 35, who first expressed doubts about Dongguk University assistant professor Shin Jeong-ah's claimed Yale degree.

Planning and Budget Minister Byeon Yang-kyoon pressured the Buddhist monk Jangyoon twice to keep a mum about his doubts concerning the Yale doctorate of Dongguk University assistant professor Shin Jeong-ah, raising suspicions that powerful forces were involved in the appointment of Shin as a Dongguk professor and director of the Gwangju Biennale. The monk was the first to cast doubt on the authenticity of Shin's degree.

Jangyoon said Byun told him by phone from Guatemala that he would settle the issue himself if the monk stopped making a fuss over it. At the time, Byun was among the entourage of President Roh Moo-hyun, who was drumming up support for Pyeongchang's bid to host the 2014 Winter Olympic Games before the International Olympic Committee meeting in the Central American country.

Jangyoon had told members of the Buddhist press on June 29 that Shin's Yale doctorate degree was fake and she plagiarized another person's academic work to write her thesis. On July 8, the day after President Roh returned from Guatemala City, the minister met with Jangyoon at the Chosun Hotel.

At the meeting, Byun again urged the monk to stop making a fuss, and allegedly promised he would help Jangyoon get reappointed as a director of Dongguk University. The monk had been dismissed as a director on May 29, three months after he first cast doubt on Shin's academic background at a meeting of the Dogguk board.

Shin's bogus academic degrees eventually hit the headlines on July 8. As the scandal grew, Shin fled to the U.S. on July 16 and went to ground there. Despite repeated attempts to contact him, the minister was not available for comment on Wednesday and Thursday.