Home Asia Pacific North Asia S/N Korea News & Issues


Monk Denies Pressure on Shin's Diploma Forgery
By Kim Rahn, The Korea Times, Aug 29, 2007
Seoul, South Korea -- Buddhist priest Jang Yoon, who first raised the suspicion of former Dongguk University professor Shin Jeong-ah's diploma forgery, confirmed Tuesday that he met a senior presidential secretary but denied that the secretary pressured him to cover up the suspicion.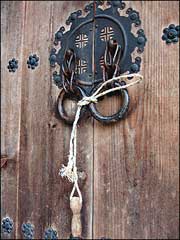 << Jeondeungsa Temple in Ganghwa Island where Buddhist monk Jangyoon resides. The gate was tied shut on Saturday (Photo: Chosun Ilbo)

He clarified his position through a spokesman of the Jogye Order, Korea's largest Buddhist sect to which he belongs, at a press conference at Jogyesa Temple in central Seoul, Tuesday.

The monk has been in hiding while the suspicions about Shin's employment and diploma fabrication were growing. Byeon Yang-kyoon,Cheong Wa Dae secretary for policy planning, was pinpointed as a figure that ``pressed'' him to protect Shin.

``It is true that Ven. Jang Yoon met Byeon and discussed Buddhist issues. During the meeting, many issues were discussed between the two but Byeon neither pressed or coerced Ven. Jang Yoon,'' Ven. Seung Won, Jogye Order spokesman, said.

``He did not received a call early July from Byeon who was accompanying President Roh Moo-hyun in Guatemala as was reported. He said he was sorry that the issue and his remarks have been distorted,'' he said.

Ven. Jang, former member of the university's board of directors, first questioned Shin's academic credentials. Shin was later selected as the art director of 2008 Gwangju Biennale. It was reported that Byeon met him on July 8 and pressed him to stop making a fuss about the forgery.

But it was also reported that the monk called the former chief of Gwangju Biennale Foundation, Han Kap-soo, after his meeting with Byeon and told him that a director for the biennale should have the ability to plan the exhibition, not just a good academic background. This raised suspicion that Byeon's pressure made him ask Han not to dismiss Shin from the position of director.

The prosecution plans to question Ven. Jang and Hong Ki-sam, a former president of the university regarding the period that Shin was hired. School officials said that the university's art department had opposed hiring Shin due to a lack of credibility on her academic background, but that Hong strongly requested her recruitment.