Home Asia Pacific North Asia S/N Korea News & Issues


Demonstrating remorse
The Hankyoreh, Oct 21, 2007
MOONKYEONG, South Korea -- Approximately 1,000 Buddhist priests and their followers hold a rally at Bongamsa Temple in Moonkyeong, North Gyeongsang Province, on October 19 in a show of repentance for the rampant corruption within the Buddhist community in South Korea.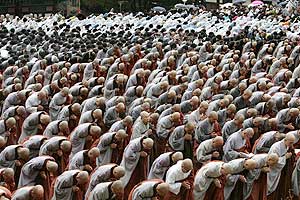 Through the rally, Buddhists were demonstrating their remorse at not having followed the teachings of Buddha and acknowledging their awareness of the criticism they have received from the public over their wrongdoing.
Buddhist monks have been entangled in a scandal that also involves Donggkuk University, which is a Buddhist institution, Shin Jeong-ah, who was arrested on charges of degree forgery and taking bribes, and Byeon Yang-kyoon, a former Blue House presidential aide. Byeon has been accused of using his influence to secure employment for Shin at Dongguk and funding for several Buddhist institutions.
Buddhists participating in the rally expressed their determination to redeem themselves and return to the basic spirit of Buddhism.